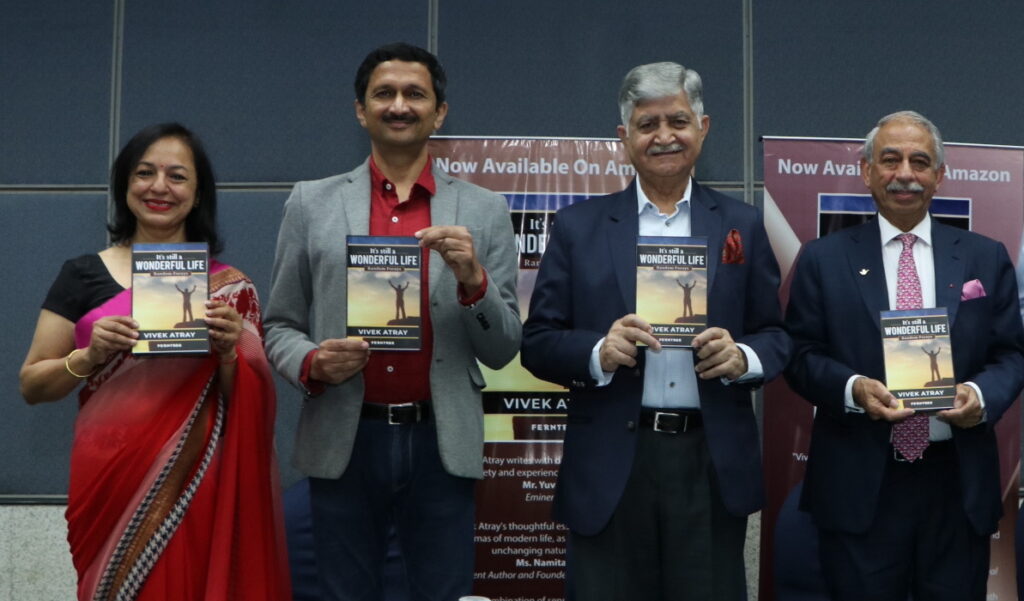 Vivek Atray pens down 'random forays' in a Heart-warming Book:Motivational Speaker and former IAS officer Vivek Atray's latest book was launched here at the CII Northern Region Headquarters in Sector 31 here today by General VP Malik, former Army Chief, and Mr M L Sarin, Senior Advocate. Titled It's Still a Wonderful Life the book is a collection of as many as one hundred and twenty write ups which form a part of Atray's popular column titled Random Forays.
Encompassing a variety of topics and written with a Motivational mindset, It's Still a Wonderful Life is a hard bound volume published by FERNTREE. Vivek Atray, ex IAS, is a Motivational TEDx Speaker, Author of "Finding Success Within", Mentor, Advisor, Columnist & Visiting Professor. He resigned from the Indian Administrative Service, IAS, in 2017. He has 8 TEDx Talks & 3 JOSH Talks. Over 3 million (30 Lakh) views on YouTube.
Topics as diverse as Relationships, Governance, Spirituality, Leadership, Youth issues, Sports, Humour and Social Media have been covered in the book through sharp and incisive essays written in Atray's signature style.
"Vivek Atray is a fascinating speaker and writer. He conveys crisp, positive, messages which lift the mood and are so useful in our daily lives", said, General Malik.
A galaxy of dignitaries including bureaucrats, ex-Army officers, Authors and professionals were present at the well-attended book launch.
In written messages, celebrities have given their views. Mr. Kapil Dev, Cricket Legend has said, ""Vivek Atray is my dear friend and has been writing so well. The human element of society is the soul of his writings."
"Vivek Atray writes with verve and style His writings make the reader feel elevated and inspired", say, Neeti Mohan & Mr. Nihaar Pandya, Bollywood Personalities.
"Vivek Atray writes with deep understanding about society and experiences that we all undergo.": Mr. Yuvraj Singh, Eminent Cricketer
Read more https://www.chandigarhcitynews.com/vivek-atray-pens-down-random-forays-in-a-heart-warming-book/