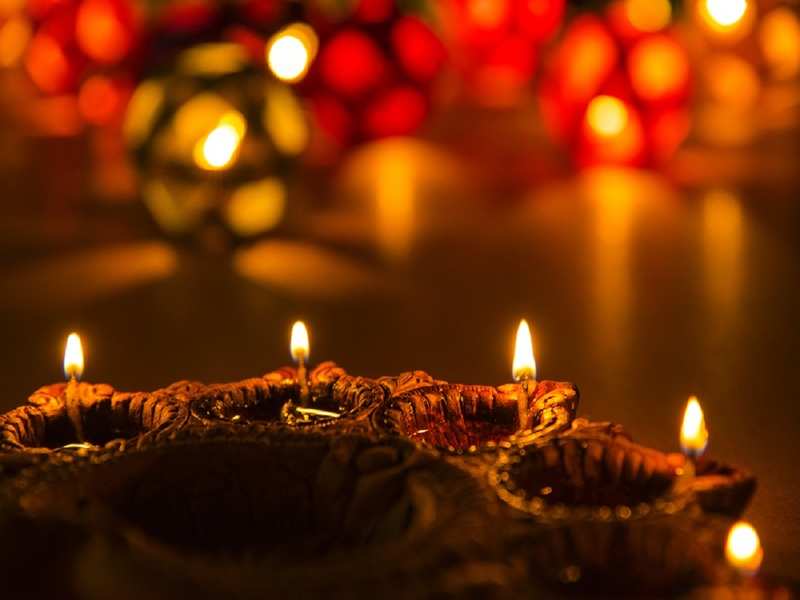 The scale of the razzmatazz that is on display is one aspect of Deepawali that has changed over the years. The glitz and shimmer of the festival of lights have become almost impossible to digest. And the Deepawali economy has attained such proportions these days that the scale of gift-bartering is almost as huge as the size of the wedding industry in our country.
Dash- a –minute visits to friends and clients, glittering arrays of lights all over town, shopping extravangazas, unending cacophony and late night card parties have replaced the simplicity of 'mithai' and 'diyas', 'puja' and piety as well as some of the warmth and bonhomie.
Yet there are some shades of the Deepawali that forever retain their joy. Families still come together as on no other occasion, laughter and gaiety still replace cynicism and drabness, and the plethora of electronic messages that stream in from long lost acquaintances actually add to the charm of the occasion.
Yet there is a sense of self-centredness that has crept into the proceedings over the years, which truly needs to be shrugged off. The festival has somehow taken on an overly commercial sheen. While it is logical and even justified for the market economy to capitalise upon the urge to spend that comes with festive occasions like Diwali and Christmas, the overall glow needs to come from genuine feelings rather than other considerations.
One way to ensure this is to literally think of 'others'. In this case that would mean not-so-privileged who have no access to the goodies that many of us do on Deepawali. Donating sweets and cookies to a Home for the neglected or even some less-polluting crackers to a school for orphans is one way of course.
But can we actually get ourselves to make a lasting difference in the lives of those who need our intervention? We could start with a scholarship for a brilliant student perhaps, or a coaching programme for a talented sportsperson. Such ideas could actually fructify on Deepawali if we reduce our expenditure as a society on some of the frivolities that we tend to indulge in. Does that gift carton need to be quite as fancy or can we avoid some of our splurging while buying it? The resultant savings could be significant and enable us to light up some lives instead!
The fact remains that previous generations of Indians were largely hand-to-mouth, whereas these days many families can today afford to set aside some income for charity. The bent of mind that is needed to think of others is perhaps what matters most.
According to a Wall Street Journal report several Indians hesitate to donate even though they wish to, fearing that their hard earned money would dissipate through misutilisation if they donate. However, if they would only spend some more time and expend some more efforts in their search, there are many organisations that are credible and even incredible in their outreach and throughput.
An old lady who passed away last year left all her wealth to a soccer team from a neighbourhood government school, and not only did their ramshackle ground transform itself into a decent play area as a result, they also bought kits and equipment that greatly enhanced their performance.
When is the last time some of us made it a point to spend an hour or two visiting a school in a slum area? We would be surprised to note that the kids are bright and confident nowadays, even in such schools, and often more intelligent and athletic than their more sophisticated counterparts. One such visit might just change the way we think about society and our roles in it.
 It is for us to realise that by bringing iridescence to other's lives we can actually light up our own. The Indian scriptures clearly postulate the fact that our real success actually depends upon how many lives we have touched through service to others. It is then that we find our own lives lit up with all kinds of lamps. And it is then that our Deepawali will truly be the festival of lights.